TachoWeb is the preferred solution for web-based fleet management.
Its flexible structure is suitable for all sectors or systems and adjusts to all company sizes.
Digital influence especially strong in logistics
The IAA 2016 once again made it clear: Nowadays, software for transportation processes is already a crucial precondition to keep pace with the developments in logistics 4.0. A recently published study confirmed that german companies, which use modern technologies in key areas, increase their turnover by 35 percent compared to companies that reject digitalization.
The digital transformation is considered to have by far the greatest impact on the transport industry. To cope with this challenge companies should take some time to explore the digital opportunities and draw on expert advice from professionals. Scalable offers and high connectivity are crucial criteria in this process. TachoWeb offers just that and more in one solution.
Transport ministers demand obligatory use of brake assist systems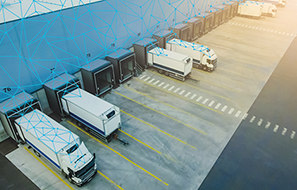 Automated emergency braking assistants could prevent serious rear-end collisions involving trucks. Out of this conviction the german conference of ministers of transport has called for the obligatory use of distance alert systems and higher penalties for tailgating. The Federal Highway Research Institute (BASt) now investigate the systems and their shutdown methods by order of German transport minister Dobrindt.
It depends on the results of the research project if the mandatory use of brake assist systems is confirmed. This would include penalties for non-use and the automatic re-activation of the systems within a specific time period if the driver turned it off. Some politicians demanded also that all trucks should be upgraded with an emergency braking assistant. According to vehicle manufacturers that is not economically achievable.