TachoWeb is the preferred solution for web-based fleet management.
Its flexible structure is suitable for all sectors or systems and adjusts to all company sizes.
Coordinating light commercial vehicles with pharma2web and care2web
DAKO expands its offer in the range of Light Commercial Vehicle with two new web-based platforms, pharma2web and care2web. With regard to the GDP guidelines the platform pharma2web offers the option to provide a seamless protocol of the cooling chain in a cost-effective and efficient way. At the same time the users can track the cooling of their valuable medicaments in real time.
The platform care2web offers mobile care services the possibility to efficiently coordinate tours, teams and vehicles. With telematics based functions the dispatcher can stay focused and work with a reliable exception management to steer fleet and care staff. Care2web enables intuitive master data maintenance of staff and fleet as well as an efficient deployment optimization of these resources.
3rd congress SMART CITY LOGISTIK presents concepts for the future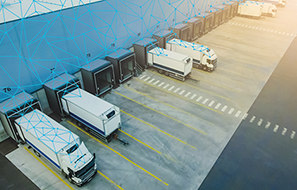 The economic use of commercial electric vehicles is possible. The only remaining task is to establish the solutions for their efficient use in the companies. This is the conclusion of the 3rd congress SMART CITY LOGISTIC. More than 100 researchers, current and future users exchanged their experiences and discussed new business models for commercial electric vehicles.
Representatives of the German and Thuringian Government expressed their appreciation of the work being done and the results achieved by the project SMART CITY LOGISTIK Erfurt, which looks back on three years of successful collaboration. The involved companies have developed an internet-based platform that supports the economic integration of electric vehicles in commercial fleets. The platform has already been tested in different scenarios with great success. For more information:
http://www.smartcitylogistik.de