TachoWeb is the preferred solution for web-based fleet management.
Its flexible structure is suitable for all sectors or systems and adjusts to all company sizes.
Interconnected data are worth mining
Logistics companies in Germany are on the slow end of digital transformation, says a study which analysed the degree of digitalization of companies in ten different sectors. And yet, logistics companies are the ones which can benefit the most from digital technologies, for example predictive analytics. Prognoses which use interconnected data can make processes like tour planning much more efficient.
Data of vehicle movement and traffic conditions is often already available in real-time. Historical data of demand peaks is added to predict the needed transport capacity or optimal routes. That not only increases the efficiency but also saves time and money.
Sector-specific ban in Tirol comes into force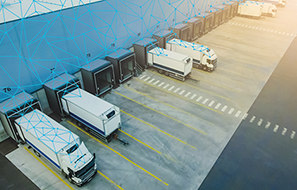 On 1st November a driving ban for the transport of specific goods with trucks heavier than 7,5 tons has come into force on the Inntal highway A12 in Austria. It applies to freight like waste, rocks, excavation material, timber, metal ores, steel, vehicles, tiles as well as marble and travertine. Trucks with the classification Euro 6 are excluded for the time being.
Trucks that pick up or deliver goods in the respective area are also allowed on the A12. The driving ban was met by harsh criticism from logistics associations. The EU has initiated infringement proceedings, but hasn't issued a preliminary injunction. Thus, the driving ban will be in force at least until the final decision in the matter.